With Halloween soon approaching I decided to rack my brain for a few simple, quick looks that I could share with you all. The kind of looks you could easily achieve at home, with products you already own - ideal for those who have sudden last minute plans, or don't want to splash out extra cash on Halloween. So here's the first look, it's a cute, simple Bambi/Deer look you could pair with a simple black outfit, curls, or two buns either side of your hair and curled front pieces which is what I've opted for. I find using images to replicate incredibly helpful when applying make up, so if you're the same I hope these help!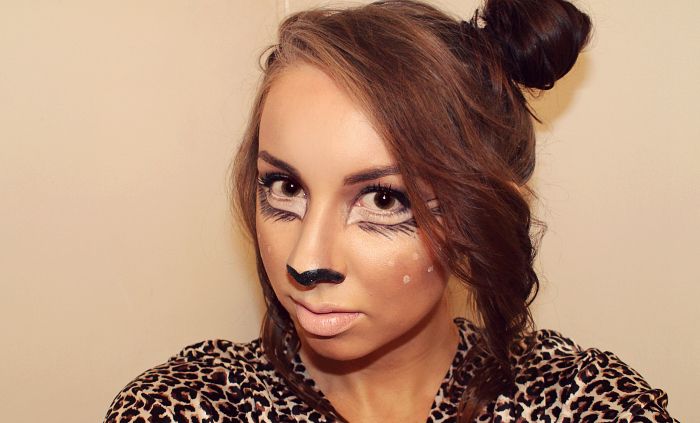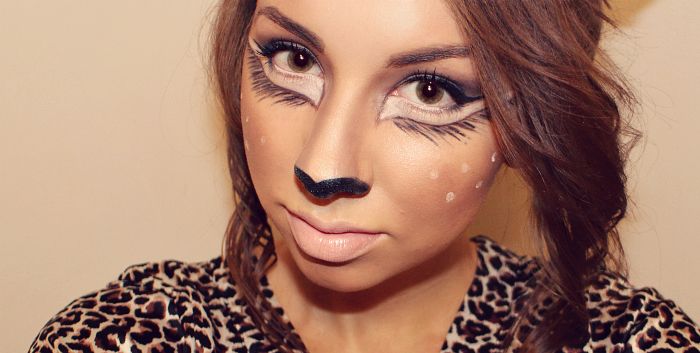 What I used;
As a base I applied the Artist of Makeup Flawless Coverage foundation in shade 30. I'm so happy with how this photographs, no nasty flashback and it makes your skin look flawless, hiding a multitude of sins. Oily skins? Definitely opt for a little powder. I used a light dusting of the Rimmel Stay Matte powder in translucent. I concealed any circles with Mac Pro Longwear concealer in NC15 which is a few shades too light for me but works as a wonderful highlight, I added this to the bridge of my nose and forehead. For contouring, the most important part of this look, I used Loreal Glam Bronze in 06 Golden Bronze and built up an obvious shading around the cheekbones, temples and hairline as well as down the sides of the nose. To emphasize the shape, I then took a matte brown eyeshadow and added it to the sides of the nose, joining to the start of the eyebrows and in the hollows of the cheeks. To finish the nose I outlined and lightly filled in the shape with a matte black eyeshadow and then added the Collection Glam Crystals Black Glitter for an extra little sparkle. For the eyes, I applied the same matte brown eyeshadow over the lid and in the crease, then applied an extended winged eyeliner with the Collection 24 Hour Felt Tip Liner in Black. On the waterline I applied a NYX Jumbo Pencil in Milk, which I also applied underneath the eyes to create a wider eye, then outlined this with a black eyeliner pencil and feathered on lashes. Going back in with the NYX Jumbo Pencil in Milk I added a few little specks of white over the cheeks to contrast against the strong contour. I lightly filled in my eyebrows with the Loreal Brow Artist Plumper and applied Mac Fleshpot Lipstick and I was finished.
I hope this helps inspire some of you!