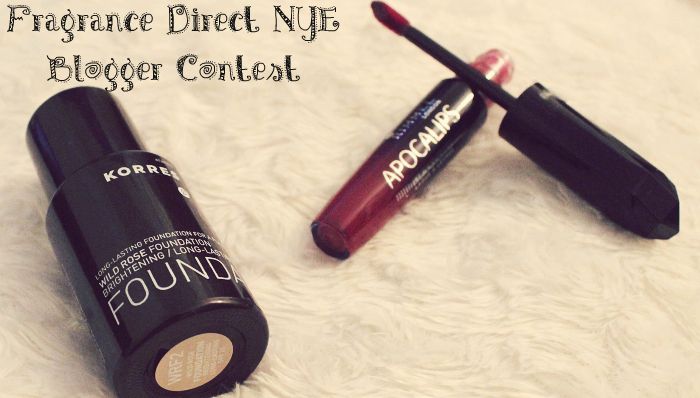 You may of seen me mention Fragrance Direct in a few blog posts as it's one of my most frequently visited online shopping sites. It offers an extensive range of products, from lots of different brands at discounted prices and who doesn't love a beauty bargain?! They recently contacted me to ask if I'd be interested in taking part in a Beauty Blogger NYE challenge. What this entailed was choosing five products from their website which came to £15 or less and create a NYE look with it. The final looks would then be shared on Facebook and the winner gets £100 credit to spend on whatever they like from the site. I've never taken part in a make up challenge before and it meant I got to try a few new products of my choosing, so even if I don't get a single vote it's still been fun!
The five products I chose were:
Korres Wild Rose Foundation SPF20, WRF2 - £3.50
I couldn't believe how discounted this product was and I've heard great things so I decided this would be my base covered. It offers a beautifully luminosity to the skin and surprisingly the coverage can be built to pretty much cover all sins. It does flash back so you'll end up with a lighter complexion, but you'll have no flaws in sight.
NYC Metallic Eyeliner, Liquid Gold - 99p
This was a lot more yellow gold then I expected so I end up smudging a little along the lash line for a little extra shimmer.
Rimmel Glam Eyes Quad Eyeshadow, Sun Safari - £1.99
This pretty little quad offers a vanilla shade with shimmer, a pink toned pale shimmer, a copper and a deep bronze. I used the lightest champagne shade in the inner corner, the copper shade all over the eyelid and then built up the deep bronze in the crease and underneath the lower lash line.
Girls Aloud Party Lashes, £2.49
These are super pretty fluttery lashes. They did have a few little gem stones on the outer corner but I trimmed them off as I thought it might be a little excessive with the bold eyes and lips!
Rimmel Apocolips Lip Lacquer, Eclipse - £5.50
This is amazing, super pigmented, easy to apply, long lasting, glossy finish and a beautiful vibrant vampy colour. I tend to opt for more vibrant colours on nights out as they need less touch ups!
I love all the looks the other girls created so be sure to have a browse through the photos! If you did want to vote for my NYE look, no pressure, then follow this link and just like the photo!